In projects of this kind, where the setting plays such an important role, it is fundamental to take into account the home's relations with these surroundings in the initial planning stage.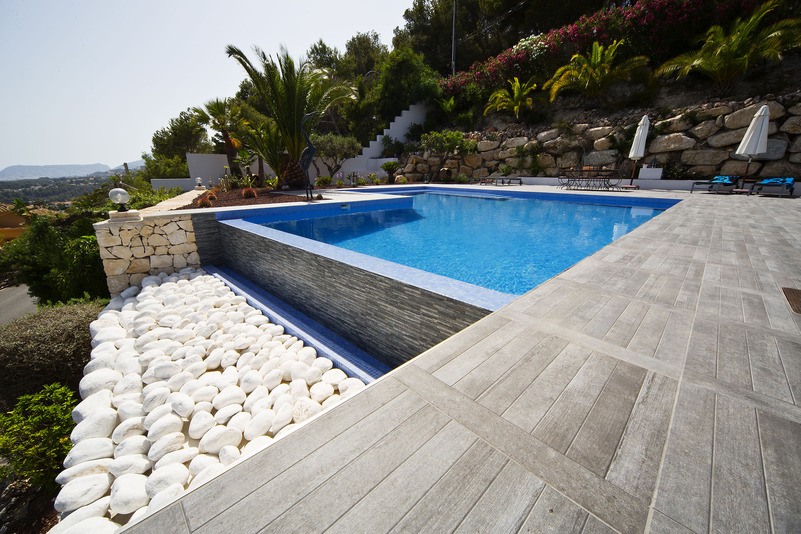 In most projects, a natural setting will determine what form the home takes. In such cases, the home's exteriors are particularly important and tiles play an integrative role, given that they help to define spaces. They can either unite or separate different areas, depending on the project requirements or on our intentions.
Tiles become a backdrop, guaranteeing functionality and visual appeal. To illustrate this, three projects are described that unite all these qualities, as well as standing out for their amazing views.
Mediterranean Moraira
This home in Moraira (Alicante), with views of the Mediterranean Sea, stands out for its clear-cut volumes and striking terrace. For an area as exclusive as this, the owner wished to create a modern yet functional atmosphere, and cement-effect tiles played a key role in doing so. 60x60 Greige-coloured tiles from the Jazz collection were used to add a distinctive personality to the home's outdoor areas. Thanks to its Outdoor finish, the collection is perfect for poolside areas or terraces.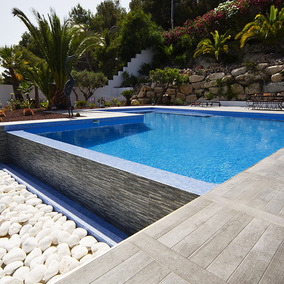 Malaga and the sun
The star feature of this magnificent Malaga villa are its magnificent exteriors, where clearly differentiated areas have been skilfully created. Its chill-out areas have been paved in white tiles from the Portobello collection, while the rest of the terrace and poolside are paved in Grafito-coloured tiles from the Madeira collection, in both cases in a non-slip version.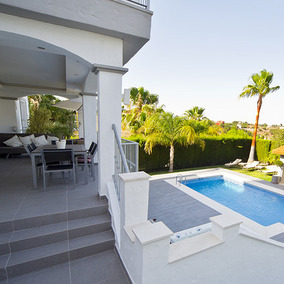 Sea-facing Estepona
The wall enclosing this marvellous terrace, clad in tiles from the Nature Black collection, creates a colour contrast with the raised access floor in the poolside area, paved in white tiles from the same collection. Thanks to technology by Keraben Grupo, the collection's integrated reliefs reproduce textures found in Nature.