In principle, they have nothing in common, but let's look a little more closely at them. We have chosen 3 of our projects to illustrate how easily adaptable our ceramic tiles are. Thanks to the versatility of the Keraben, Metropol and Casainfinita ranges, there is always a tile product to suit all settings.
"Magiamo"?
Muerde la Pasta is a chain of nationwide restaurants in Spain, based on a design with different dining areas. To take optimal spatial advantage of its restaurants, the company chose tiles by Keraben from the Madeira collection in a class C2 non-slip finish and natural texture with all the durability, versatility and functionality synonymous with tiles by Keraben Grupo.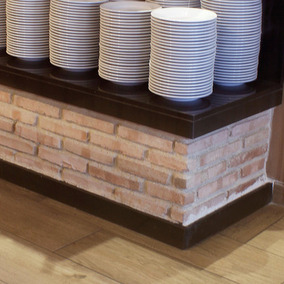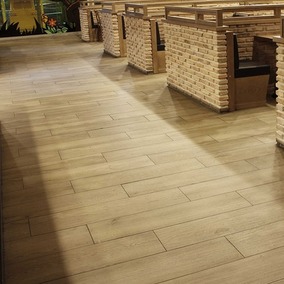 Far more than just aspirins.
This chemist's shop needed its inner and more peripheral areas to be better integrated. A decision was made to create two opposite entrances at one end of the shop. A pleasant luminous setting was sought with a spacious feel, while also dividing the shop up into sections specializing in different types of products. For this purpose, a perimeter-type display was chosen, creating separate areas for different types of products, with low gondola display units to mark out the passageways. Three individual display units were placed opposite to the entrance/exit so that customers would have to walk through the different sections.
The layout of the flooring clearly points customers toward the shop counters. For this purpose, the Evolution collection was chosen to create a neutral-looking stretch of flooring as the backdrop on which to build an identity for the shop. The end result is a setting conceived to foster user-friendly pleasant shopper experiences.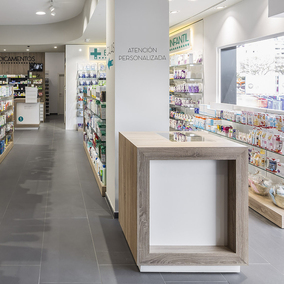 Please do not disturb.
Dijon Hotel, a building with a 19th century façade, boasts 29 rooms and 3 suites where one of Keraben's best-known products is featured: the Nature collection, used on the walls of its bathrooms in a 30x90 grey finish. Nature's stone-effect surface and the combination of field tiles and relief-textured ones seem to echo the façade's traditional architecture, with the chic sophistication synonymous with the rest of the hotel's interiors.