Once again Keraben Grupo will be taking part in Cevisama, the Spanish tile industry's leading event, showcasing all its new products for the coming year.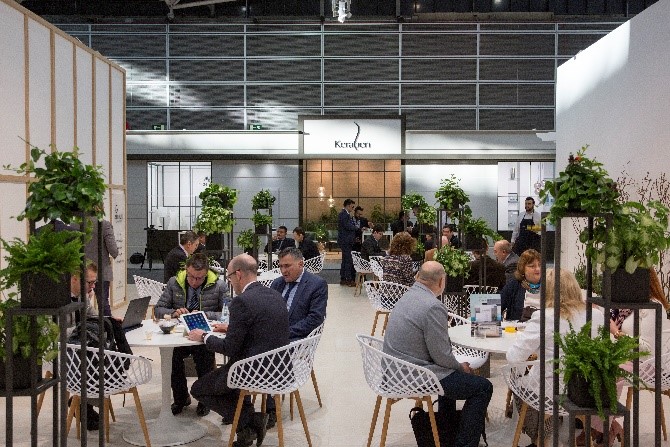 On this occasion, the concept behind its spectacular stand is the opening phrase "Once upon a time". Inspired by classic tales, Keraben Grupo will take visitors on a journey of discovery through a variety of settings with subtle magical touches that combine to evoke three of the best-known stories from children's literature: The Wizard of Oz, Alice in Wonderland and Peter Pan.
Through the magic of these tales, in three separate areas covering a total of over 1000 m2, guests will discover all the latest wall and floor tiles by the group's brand three names–Keraben, Metropol and Casainfinita.
Keraben: The Wizard of Oz
Subtle aspects of Keraben's different settings conjure up courageous Dorothy's adventures in the Land of Oz with her companions the Scarecrow, the Tin Man and the Cowardly Lion.
In a backdrop typical of the American Mid-West, visitors to Cevisama will discover new tile formats, finishes and designs at the Yellow Brick Road Restaurant, in Dorothy's bedroom, and in the Lion Room, among other magical places.
Keraben will be presenting new designs that encapsulate all the essence of nature's beauty in exclusive wall and floor tile collections where stylish elegance has been combined with a strong contemporary appeal.
Other new features also include large rectified formats, relief textures and advanced functionalities, taking visitors way up high over the rainbow.
Metropol: Alice in Wonderland
At Metropol, visitors will accompany Alice and her friend, the White Rabbit, on a journey to an underground Wonderland. Through the Unbirthday Room, the Eat Me/Drink Me Kitchen and the Mad Hatter's Hat Shop, Metropol will showcase a series of new products all clearly representative of the brand name's philosophy.  
Its design team's meticulous attention to detail is evident in all Metropol's products, where priority has been given to their decorative potential in addition to the tiles' functional purpose. Conceived to fit in with a wide variety of styles, they are all conspicuous for their exquisite strong contemporary allure.
Casainfinita: Peter Pan
Casainfinita will take visitors on a series of fantastic adventures, hand in hand with Peter Pan and Tinkerbell in the magical Never Land through tiles conceived to make a lasting impact.
CasaInfinita is synonymous with exquisite restful elegance, with tiles that stand out for their discrete charm, complemented by the chic sophistication of their marvellous décors and trims, whose attention to detail clearly evokes a passion for design.
At this new edition of Cevisama, through interior design and its potential to customize living spaces, the quality, design appeal and resistance of ceramic tiles will all be highlighted in settings recreated in unique style with a strong dose of designer flair, inspired by these three classics from literature.
KERABEN GRUPO
Keraben Grupo is made up of a group of companies specializing in the manufacture and sale of ceramic tiles and special tile pieces and in other complementary activities. It consists of the Keraben, Metropol and CasaInfinita brand names.
At Keraben Grupo, we design and develop products from the conception stage through to the manufacture of the products, using cutting-edge technology and paying meticulous attention to all aspects of their design so that each and every one of the tiles has a unique design and texture.